Reclaiming Hockeytown: Preseason Game 1
Posted on October 8, 2013 at 02:33 PM.
(0)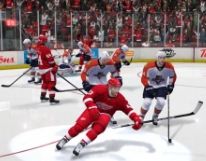 WINGS BATTLE PAST PANTHERS 2 - 0


Detroit, MI (Sept. 23rd 2013) - Darren Helm scored the game winning goal early in the first period and Henrik Zetterberg added a empty net goal with 00:18 left to go to give the Detroit Red Wings a 2 - 0 victory over the Florida Panthers at the Joe Louis Arena tonight.

Detroit got on the scoreboard at the 7:51 mark of the first period when Darren Helm took a pass from Todd Bertuzzi in the slot and fired home a one timer past the Florida netminder to give Detroit a 1 - 0 lead. Bertuzzi was not done being on the score sheet though as minutes later he dropped the gloves and faced off with John McFarland and both were sent off for fighting.

While not scoring happened in the second period, Florida was given a later power play that they were not able to score on. The final goal of the night came on an empty netter by Henrik Zetterberg to make the score 2 - 0 and that would be the final. Jimmy Howard made all 13 stops tonight to secure the shut out for Detroit. The Wings now head on the road to face off with the Boston Bruins on the 25th.


Florida Panthers at Detroit Red Wings

| | | | | |
| --- | --- | --- | --- | --- |
| Sep 23, 2013 | 1 | 2 | 3 | F |
| FLA (0 - 1 - 0) | 0 | 0 | 0 | 0 |
| DET (1 - 0 - 0) | 1 | 0 | 1 | 2 |

Three Stars
Darren Helm - Detroit
Goal
Jimmy Howard - Detroit
13 Saves
Henrik Zetterberg - Detroit
Goal

Team Stats Comparison
FLA
DET
Shots on Goal
13
18
Hits
13
14
Faceoffs Won-Lost
5-18
13-18
Penalty Minutes
10:00
12:00
Power Plays Converted
0
0
Power Play Opportunities
1
0
Time on Attack
6:10
9:34

Scoring Summary
FIRST PERIOD
DET
7:51 D. Helm (1), (T. Bertuzzi, C. Colaiacovo)
THIRD PERIOD
DET
19:42 H. Zetterberg (1), (N. Kronwall) EN