Fight Week! - Ward/Dawson: Feel The Excitement?
Posted on September 7, 2012 at 01:49 PM.
(4)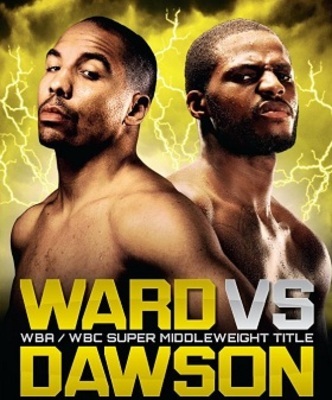 There are two ways to become popular in combat sportsÖ.with your mouth or with your fists. Fighters like Chael Sonnen and Floyd Mayweather have done it with their mouths (Mayweather has a few KO finishes but most are decisions). Fighters like Manny Pacquaio and Anderson Silva became famous because of exciting fights and knockouts. Iíve seen people have both but I don't recall any fighter become famous without of them. That leads us to the problem that faces both Chad Dawson and Andre Ward.

I absolutely adore HBOís 24/7 boxing series. You could do a 24/7 featuring John Ruiz and Nikolai Valuev and I would watch the whole thing. So when HBO filmed an episode of 24/7 with Ward and Dawson, I was excited to watch it. One thing 24/7 does is it finds a way to make lesser-known fighters interesting. Iím actually a bigger fan of guys like Victor Ortiz and Tim Bradley more because of 24/7 than anything they have done in the ring. So when watching 24/7 Ward/Dawson, I was shocked to find that not only did it not make me more interested in the fight but I was actually nodding off during the episode. Both men appear to be great family men but their personalities are very bland. Even the boxing strategy talk didn't really catch my ear because no matter how much both of them claim that this fight is going to be ďa warĒ there in-ring histories show it probably wont be.

Saturdayís fight will feature two men who are both ranked in the Ring Magazineís Top 10 Pound for Pound rankings (Ward #5, Dawson #10). Two men who are also considered the linear and undisputed champions in their divisions (Ward is the Ring Super Middleweight champion and Dawson is the Ring Light Heavyweight champion). Ward is also an Olympic Gold Medalist and Dawson has only one loss in thirty-four fights. They each have a ton of credentials and based off of those credentials alone millions of people should watch this weekendís fight. The reality is very few people will actually watch Ward/Dawson because very few fans know or care about either fighters.

Iíve seen a few boxing writers argue that the reason why people arenít excited about Ward/Dawson is because we lack an appreciation of true boxing. Ward and Dawson are both masterful when it comes to movement, using range and hitting while not getting hit. I would argue that with the exception of Mayweather, Ward is perhaps the best pure boxer in the world. The problem is no one wants to see just boxing alone. They want boxing plus a finishing instinct. Iíd argue that Mayweather would not be at the level he is if he didn't have KO wins over fighters like Diego Corrales, Arturo Gatti and Ricky Hatton. Fans font expect a KO every time but we are excited by knowing that the KO is possible. I don't feel that way about either Ward or Dawson. Ward hasn't KOíd as significant opponent in his career. While he dominated every minute of every fight he was part of in the Super Six Super Middleweight tournament, it never felt like he was close to finishing any opponent he faced. Dawson hasn't finished a top opponent either and unlike Ward (who consistently throws combinations and uses his jab magnificently) is more of a jab and grab fighter who uses his length to keep opponents away and clinches when they get close.

I know it seems like I have nothing positive to say about the fight but Iím actually going to watch this fight. While Iím not anticipating an exciting fight, a true boxing fan would never miss a fight between two top 10 pound for pound fighters. Plus, exciting lightweight Antonio DeMarco is on the card and Vitali Klitschko is fighting another tomato can who he probably will knockout in the early rounds. So you will at least get to see one knockout. My prediction: Ward by Unanimous Decision in a very boring fight.

Iíll be back later this week to discuss the latest MMA/Boxing news. If you have a comment about the blog, post below or tweet me at @aholbert32.
aholbert32's Blog Categories
aholbert32's Xbox 360 Gamercard
aholbert32's PSN Gamercard
' +
aholbert32's Screenshots (0)
aholbert32
does not have any albums to display.
More
aholbert32's Friends
The last 10 visitor(s) to this Arena were:
aholbert32's Arena has had 92,061 visits