Man's best friend
Posted on October 19, 2013 at 02:13 AM.
(2)

What can I say, I love my dog.

Achilles, an American Bulldog, who we got as a 6 week old puppy. Now almost 6 years old and today we found out he most likely has cancer.

Sometimes ish gets real, real fast. I guess life is like that, not one of us is guaranteed any ounce of a future. But let me back up a bit and do this dog some justice.

A few weeks before Christmas 2007 my future current wife Luisa and I were on the hunt for a Christmas tree. We stopped at a little tree farm and found a crappy selection with high prices. On our way out we spotted a guy with a box of puppies. Generally I know better but being in a cheerful Christmas spirit convinced me to give the ok to walk over and check out the pups.

We looked in the box and instantly Luisa spots a tiny piece of nothing, brindle with white markings on his face. She picks him up and that slick little puppy manages to melt her heart at first sight. She starts looking at me for approval while I outwardly giver her the don't even think about it look. But on the inside my heart was melting too. I let her make the call and stayed out of the decision making process. At the time we weren't even living together yet but had been involved for over a year.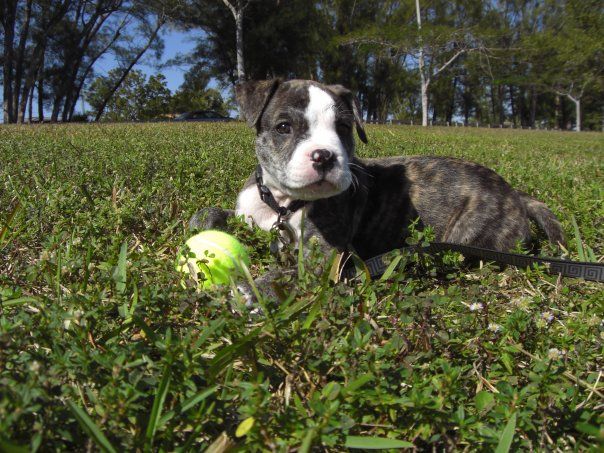 She walked away with a new puppy and so beings the story of Achilles. I had always taken pride in how I trained my dog (Brandy) so I offered up some advice for crate training Achilles at night. Luisa, months later admitted to throw that advice completely out the window, she'd scoop up that puppy into her bed at the first sound of a whimper. As it turns out, I was wrong, she was right; that dog turned into the most committed cuddler known to man and there are many, many photos to prove it.

Achilles was a bit rambunctious as a pup but has definitely calmed down to a perfect mix of couch potato and spunk. Luisa and I moved in together soon after his arrival (circa March 2008). Luisa inherited my dog brandy and she's a very obedient dog but Achilles is one of a kind. Achilles is the type who will chill with you on the couch all day and entertain you with his goofy looks.

Luisa and I got Married in November of 2011 and just had our first baby boy, Landon this August (2013). Throughout the pregnancy Achilles was always willing to bum on the couch with Luisa after a hard day of work. We had zero doubts about how he would behave with Landon. The first night back from the hospital, Achilles was very hyper and excited to see us, it had been 3 days since he saw Luisa. By the third day though, Achilles had become as calm and gentle as I knew he would. He would walk by Landon as we were holding him, lick his feet once and lay down by our side. It was the beginning a beautiful friendship, one I already know so well.

After 6 weeks of maternity leave, Luisa went back to work and that's when I started noticing little signs of change in Achilles. I figured he was mildly depressed because of Luisa going back to work, after all, he had spent almost every moment of those 6 weeks hanging out with Luisa, Landon and me. A few weeks ago I noticed Achilles was not finishing his dinner, unheard of for him. It got progressively worse, when he left a freshly cooked chicken breast untouched I knew something serious was up.

We made an appointment to get him checked out, we were worried it might be worms or some type of infection. The doctor noticed some swelling in his abdomen and ordered an X-Ray. That showed a mass, so today we got an ultrasound done and there's definitely something growing, as well as swelling in his liver and spleen. The vet also noticed slight swelling in his lymph nodes. They took a tissue sample which will confirm or deny the presence of cancer.

I won't even pretend to be tough, when the thought hit me of him not being around for Landon to get to know and love, I broke down like a baby. There's a special bond between a dog and his family. There's a love there that you just feel, something most humans have no clue how to do.... Unconditionally love.

The vet thinks its lymphoma which wouldn't be the worst news, since it's one of the most treatable forms of cancer in dogs. And so we wait for the test results, to give us an idea of what exactly we're dealing with and how far along things are. I'm hopeful that we can get Achilles back to good health. Change in diet, detoxification, meds and lots of love. At the same time I'm realistic. We're already into deep money in the diagnosis and if things are too far along, we might have to make a tough call.

I know this has been pretty long but I had to get it down, I had to express it. So thanks guys for reading and please send good vibes, prayers, healing energy, whatever you believe in Achilles' way.


clipperfan811's Blog Categories
More
clipperfan811's Friends
The last 10 visitor(s) to this Arena were:
clipperfan811's Arena has had 50,304 visits