Quarterbacks on Life Support
Posted on June 22, 2012 at 11:00 AM.
(2)

The quarterback is arguably the most important position in all of sports.

It would be tough to find someone with more responsibility for the success of a team on every single offensive possession. Quarterbacks not only touch the ball every play, but they are in control of getting the ball into the hands of the running back or the receiver. As if that wasn't enough, they also must read defenses -- pre-snap and during the play -- to decide what to do with the ball.

In the NFL, quarterbacks are a valuable asset because of the rarity of a true franchise player that has the skill to perform over the long-haul. Factor in the money that the position demands and it's no wonder teams often have a short leash when it comes to deciding on their man.

No doubt, some quarterbacks fail to meet their hype, and one of the most difficult moments for any front office is deciding when it's time to move on at the position.

So just how long should teams wait for a QB to make an impact?

To help answer the question I decided to go back through ten years of NFL drafts to single-out the statistics of all first-round QB selections since the 2003 season (I also included Andy Dalton, a high second rounder who has performed well). My comparisons looked at years one through five of each player's career.

The goal: to find out the average progression of a first-round quarterback, and to see at what point in their career have they established their peak performance level.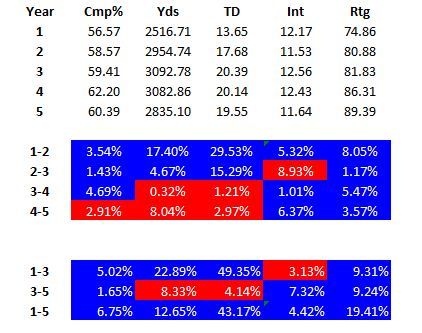 One of the first things that stood out to me -- and much as expected -- the quarterback numbers were at their worst in the first year of starting across the board in all categories. I was quite surprised at the lack of significant improvement in interceptions thrown, but many of the quarterbacks within the sample either didn't make it to a fourth/fifth year of starting or have yet to play that far into their career.
Completion percentage climbed at a steady rate, but leveled off from year four to five. The biggest jump appears to come in the fourth year, but only slightly more noticeable than the move from year one to two.
Passing yards also made a big jump in the second year but leveled off surprisingly around the 3,000 mark. The same has been true for passing touchdowns, with growth in the second and third years before hitting a wall.
The one steady area of growth was in quarterback rating, which climbed at a respectable rate each year. The second year saw the biggest jump with a hitch in the third year, but improvement picked up again after that. This seems to make sense due to the assumption that quarterbacks tend to play smarter and more efficiently as they become more experienced.
Overall, while completion percentage and interceptions do progress, it looks as if the most significant areas of growth are passing yards, touchdowns, and quarterback rating.
But at what point does the cumulative improvement appear to reach it's peak? And more importantly, how many years should a quarterback have as a starter before they're removed as the face of the future?

According to the research, the answer is four years.



Four full years of starting is enough to find out if your quarterback is "the guy." That is, of course, if a quarterback can make it to the fourth year.




The second year of starting -- according to the data -- is the most critical for any quarterback. If a player doesn't progress significantly in the second year, there's a good chance they don't have what it takes. In other words, there's a good chance their name might be JaMarcus Russell.




So using the data, what players with four years or less of experience are set for the future and which should be let go?




Matt Ryan and Matthew Stafford are coming into their fourth years, and could be primed for enormous performances considering the impressive numbers they've produced thus far. Josh Freeman has done well in his own right, but must improve the interception numbers in his fourth year or it may be time to move elsewhere.




Quarterbacks coming into their second year of starting, however, should be the intriguing group to watch. This is the group where a a huge jump is expected, and if not achieved, it could send up red flags.




Players like Sam Bradford (injured last year), Cam Newton, and Andy Dalton (early 2nd round selection) are primed for monster years. It's tough to think a guy like Newton could improve on his rookie numbers, but don't be surprised if he does.




But the most intriguing player ready for a huge year, in my opinion, is a guy surrounded by an organization that may pull the plug prematurely due to the frenzy over the backup quarterback.

That backup is Tim Tebow

, and the starter -- lost in the media frenzy -- is Mark Sanchez.




While both claim to be co-existing happily in The Big Apple, it's yet to be seen how things will go once the offense starts in motion. Will Sanchez be given a fair shot at leading the team? If the averages apply to his fourth year as starter, Sanchez could be in for a year with 60% completion percentage, 3,500 passing yards, 30 touchdowns to 15 interceptions, and a quarterback rating easily eclipsing the 80.0 mark.




Many fans may feel the urge to call for Tebow, but it appears the best thing New York and it's fans can do in 2012 is to trust in Mark Sanchez.




Instead of screaming for the backup it may be time to simply back off..






How long do you think quarterbacks should have to make an impact?




What NFL quarterbacks are in their make-or-break year?






Justin Mikels is a staff writer for Operation Sports. You can follow him on Twitter @long_snapper.
' +
jmik58
does not have any albums to display.
The last 10 visitor(s) to this Arena were:
jmik58's Arena has had 1,220,605 visits