Exeter City Update: Sept. 2020-Sept. 2021
Posted on September 19, 2016 at 02:24 PM.
(0)



September 1, 2021

- Exeter, UK

After earning only 1 point in August 2020, it was a bumpy start for Exeter City's inaugural season in the Premier League. The team would look to turn things around by relying on their work ethic and defensive strengths heading into the rest of the year.

During the course of September, October and November, the Grecians seemed to finally gel as a team with free transfers Simone Scuffet (77 OVR) and Danny Rose (77 OVR) anchoring the defense. On offense, Sebastian Romero (78 OVR) and Jose Izquierdo (79 OVR) kept up their familiar one-two punch and were trading goals with each other at an amazing pace. By January 1st, 2021, Exeter City sat 3rd in the Premier League tied with second place Manchester City and trailing league leaders Chelsea by 11 points.

Exeter City had gotten back on track after their slow start to the season in a surprising fashion. After losing two games in August, they only lost two more games from September through all of December. The team had found its stride through the fall of 2020 and were fighting for a place in European competition the following year.

The winter window started with a few players being loaned out. Center backs Sheyi Harris (66 OVR) and Roque Alvarez (66 OVR) would finish the year with Blackburn Rovers and Juventus, respectively. In addition, summer arrival Federico Rasic (73 OVR), formerly of Argentinian side Gimnasio La Plata, was in high demand after some great performances off the bench. Several teams jumped in with bids and ultimately Rasic would join Red Bull Leipzig for $6.8 Mil., thus ending his Premier League journey after only a few months.




Federico Rasic (left) is sold from Exeter City after only five months in the Premier League. He will join RB Leipzig for $6.8 Mil.

With a striker spot open on the bench, Exeter City found Yeovil Town forward Gozie Ugwu (68 OVR) to fill the void. The 28 year old English national would be sold to the Grecians for $400,000 plus youth academy product and CAM Tim Stevens (69 OVR).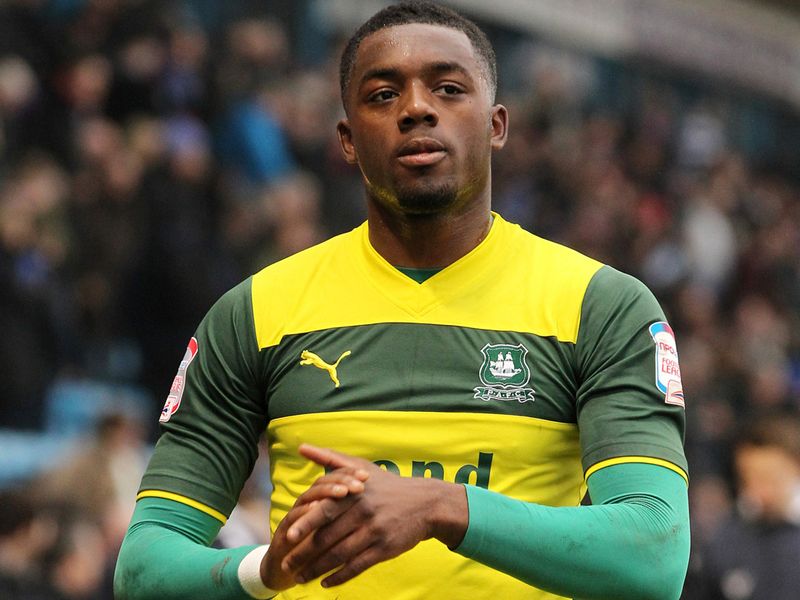 Yeovil Town's 28 year old striker Gozie Ugwu will join Exeter City in the Premier League for $400,000 and attacking midfielder Tim Stevens.

Sitting in third place, it seemed the team could ride their momentum to a surprisingly high finish in their first season of Premier League football. Rather than disrupt the team's excellent play, the only other moves during the window were free transfers which would not arrive until the following season.

These are the free transfers coming to Exeter City next season:
Jores Okore (CB, 81 OVR) - 29 years old from Aston Villa
Cedric (RB, 80 OVR) - 30 years old from Stoke City
Yaya Sanogo (ST, 77 OVR) - 28 years old from Crystal Palace
Gerso - (LW, 74 OVR) - 30 years old from Moreirense FC
Michael Bradley (CM, 82 OVR) - 33 years old from Toronto FC

These players should add significant depth to a team that will likely be split between European tournament football and the Premier League season next year.



US National Michael Bradley will join Exeter City from Toronto FC on a free transfer for the 2021 Season.

Even after not changing any of the starting XI from the squad, Exeter City started February with two unusual losses. The team's form would wind up dropping even further from there as the Grecians found themselves in a downward spiral through the Premier League table.

The team fell out of European football by March and by the end of April, they sat in 8th place with only a handful of games left in the season. The hopeful ECFC supporters had witnessed their team fall from third place to 10th place by the end of the campaign and morale was extremely low. The Grecians had earned only three points after the winter window closed on February 1st with all the points earned off three draws. The team with such high hopes, due to an amazing first half of the year, were only saved by their low expectations as a first time participant in the BPL.

"We are not happy." stated Exeter City's manager, koszak27. "The team played marvelously the first half of the season and we made no significant changes to the players or tactics. I cannot answer why this happened but we will learn from it and aim to improve upon our efforts for next season."

Exeter City's board had publicly stated that they expected the team to at least avoid relegation this season and the team had achieved this goal. No one could be happy, however, with a mid-table finish after such a bright start to the year. The Grecians had gone without a single win following the winter window and a repeat performance next season could be disastrous for team management.

This was the starting XI to end the 2020-2021 season:



These are the player stats for the 2020-2021 Season:

Soccer Leaders - Updated: Jul 1, 2021

Games
GA
Goals
G
1. Simone Scuffet
43
1. Sebastian Romero
12
2. Sebastian Romero
39
2. Jose Izquierdo
11
3. Joaozinho
39
3. Florian Martin
10
4. Florian Martin
38
4. Joaozinho
5
5. Fabian Delph
38
5. Tom Nichols
4
Assists
A
Clean Sheets (GK)
CS
1. Jose Izquierdo
8
1. Simone Scuffet
17
2. Sebastian Romero
4
2. Mamadou Mensah
0
3. Joaozinho
4
3. Felipe Marcano
0
4. Gozie Ogwu
3
4.
5. Georges-Kevin Nkoudou
2
5.
Average Form
AF
Overall Increase
UP
1. Jose Izquierdo
6.9
1. Jami Pomini
5
2. Sebastian Romero
6.7
2. Mamadou Mensah
5
3. Joaozinho
6.5
3. Everton Santos
4
4. Simone Scuffet
6.5
4. Sheyi Harris
4
5. Florian Martin
6.5
5. Felipe Marcano
4
Overall Decrease
DWN
(Points/Games) + Average Form
PGA
1. Luciano Lollo
-1
1. Jose Izquierdo
7.51
2. Danny Rose
0
2. Sebastian Romero
7.11
3. Michael Schimpelsberger
0
3. Florian Martin
6.79
4. Ben Davies
0
4. Joaozinho
6.73
5. Fabian Delph
0
5. Tom Nichols
6.69


The summer of 2021 was spent by Exeter City's management scouting for new talent and evaluating where to best use the new arrivals from last winter's window. Two players had left the team after expiring contracts; CB Luciano Lollo and long tenured striker Matthew Jay (59 OVR).

In addition, three youth academy players were called up to the senior team in the summer:
Luis Gonzalo (SPA) - 71 OVR, CB
Diego Montoya (SPA) - 68 OVR, RW
Javi Villar (CHL) - 73 OVR, RM

The summer window was kicked off to a big start as Everton Santos, the 21 year old center back who finished the season in the starting squad, was sold to Atletico Madrid for $29 Mil. This sale would fuel the purchases of two key players for Exeter City.

With Santos sold and former CB starter Luciano Lollo gone, the team looked for a starting center back to enforce the back line. The Grecians would recruit 30 year old Inigo Martinez (82 OVR) of Real Sociedad to take this place for $14 Mil. and youth prospect Roque Alvarez (68 OVR).



Inigo Martinez will join Exeter City in the Premier League for this upcoming season.

Right on the heels of this signing was also the purchase of Marco Asensio (80 OVR), the highly skilled 25 year old Spanish CAM from RCD Mallorca. Asensio would cost Exeter City $23 Mil. plus LM Florian Martin (75 OVR). This signing raised a few eyebrows because the Grecians did not typically employ a central attacking midfielder but Asensio was capable of playing a more normal midfield role when needed.



RCD Mallorca's Marco Asensio will transfer to Exeter City and the Premier League.

The final move by ECFC in the summer 2021 window was the sale of RM Jon Taylor (68 OVR). The 29 year old had been used regularly off the bench to make use of his blistering pace and creativity but he was sold to Birmingham City for $1.4 Mil.

By the end of August 2021, Exeter City had managed a respectable win, loss and tie in the three games to start the season. The team looked very different in several positions to just a season ago but necessary changes were made to avoid a repeat of last season's uncomfortable winless streak.

With the team sitting mid-table on September 1st, 2021, this was the starting XI:



This is the team depth chart for Exeter City's 2021-2022 season:

Exeter City Depth Chart - 2021

STARTER
2ND
3RD
4TH
GK
Scuffet (77)
Mensah (60)
Marcano (57)
RB
Cedric (80)
Schimpelsberger (71)
RCB
Martinez (82)
Kim (76)
LCB
Okore (81)
Medieros (74)
LB
Rose (77)
Letizia (74)
RM
Bradley (82)
Gerso (75)
CDM
Delph (79)
Mauri (76)
LM
Joaozinho (82)
Nkoudou (76)
CAM
Asesnsio (80)
Cardenas (69)
ST
Romero (78)
Nichols (70)
ST
Izquierdo (79)
Sanogo (78)


Manager's Notes:
A very productive first half of the season was wasted with a really bad second half. We played like a team deserving relegation in the second half with no wins and three draws the final three months of the year. The only thing that saved me from being fired was how well we did in the beginning. I was surprised how badly the team played after the winter window because it was the same players, formations and tactics as before. Even in the one game per month that I would play the team seemed slow and couldn't create good chances. I'm just glad I wasn't fired and I have another shot at making Champions League games.

I was happy with our signings over the last two windows. We have some good talent coming in for the 2021-2022 season in Michael Bradley, Marco Asensio and Inigo Martinez. I may switch up the formation to drop down to only three defenders and get a fifth midfielder in because Nkoudou has been really effective in simulations and Rose is starting to quickly lose physical stats.

I was hopeful we would be playing European games this season but another year of development could help. I got some really good youth academy guys coming in and I think one even hit two May bumps in the academy. I mostly need to work on my own skills in the game because I rarely play with players this high rated against CPU players with Premier League stats. Usually I'm in lower leagues and get bored before I get this high. I just need to work on that one last move that gets me around the final defender.

Next update will be Sept. 1st, 2022 once this season has ended.
This entry has not received any comments yet. You could be the first to leave one.


koszak27's Blog Categories
' +
koszak27's Screenshots (0) koszak27
does not have any albums to display.
The last 10 visitor(s) to this Arena were:
koszak27's Arena has had 14,388 visits