10:31 AM - January 30, 2014 by MMChrisS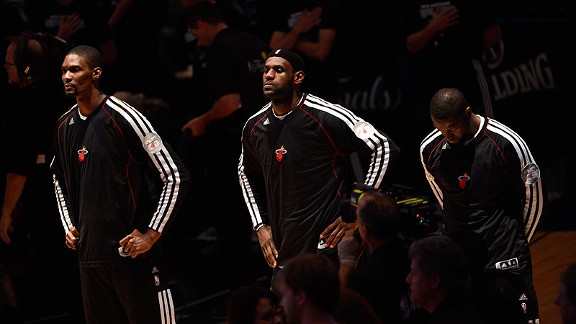 In NBA terms, one is old and the other two are getting old. They're accomplished (
two titles and three appearances in the last three years
) and possibly lacking the passion and drive. They're also essentially guaranteed a spot in the playoffs where they can try to "turn it on" in hopes of another NBA championship.
We definitely haven't seen the last that the Miami Heat and the "Big Three" have to offer, but several factors have diluted their everyday efforts, performances or both.
Kevin Durant and the OKC Thunder got the best of the Heat last night
in what could be a subtle sign that Miami -- if they even get to the NBA Finals -- just don't have
it
anymore.
We shouldn't count the Heat and their superstar-bonding project as finished just yet. But what if they never win another title together, or even get that far in the playoffs. For all the hype, hate and excitement we've experienced over the short time they've been together, what if it all ended today?
Sound Off: If the Miami Heat never win another NBA title with the "Big Three", should their accomplishments be judged as successful?
Sports Headlines for January 30, 2014