Fixing Madden's Robotic Animations
Posted on June 12, 2014 at 04:26 PM.
(0)
After watching limited E3 footage, it is evident that many gameplay animations still look robotic. In my opinion, there are 2 reasons. First is player model physics. From what I have seen, Maddens player models do not seem have upper and lower body physics. To not get too specific, the upper and lower half of the body can react to different forces. Just because the upper body is being blocked, tackled, held, etc. that does not mean the lower half needs to stop momentum and vice versa. We do not see player models bend, twist, or arch accordingly. Animations such as blocking, route running, ball carrying, etc are still very stiff because of this.

The second reason is that during the play, players do not seem to have a sense of what is going on around them. Ball carriers especially. There is no sense of reaction such as leaning away or tension from ballcarriers as they are about to get tackled, no sense of pressure as the pocket is collapsing on a QB, no sense of urgency as a ball-carrier is just an arm lengths away from a defensive lineman being blocked. Defensive players don't have that instinct to look to find the ball, while running backs dont even look around to see who's around them when running. Eyes are just straight forward.

I will point out that EA has done a great job with pre/post play animations. Players look loose walking up to the line of scrimmage. They have that sense of "swag" as they set up in their stances. They seem to have personality.

However, once the ball is snapped all those human qualities go away. There are no reactions by the players, as if their actions serve no purpose. Where is the 2nd effort? Where's that player sense?

I will just give a few examples, of what I would like to see for player senses.

Quarter Backs First thing is first. QB movement in the pocket needs to be addressed. No sense of lean. When moving around in the pocket, QB's usually take bigger side steps. The expression "stepping up in the pocket" is an actual step by the QB, not a slide.




This one is quick, but brady knows the defender is bearing down in him. In order to get throw off, he has to throw off of his back foot to try and avoid the defender. It's about knowing the situation and reacting with a quicker, off balance throw.




Here is a good one of QB avoiding pressure. He feels the DLs arm around his shoulder but has the strength with his legs still planted to power throw the arm tackle. Again, there are 2 parts to the body. Upper half and lower half. If EA can distinguish these two parts from each other, I see a lot more animations playing out. (want to stress this point)


Running Backs




Take a look at the stumble at the end. Lynch looks over at the defenders around him which actually causes him to stumble. The sense of players around him actually had an impact. If madden could just give us the head turn, I'd be happy.

Also, notice his cut left in the beginning of the run to find the hole. When you press left on the LS, you shouldn't turn left and go East/West. It should be a cut left with the body still being north/south

Defensive lineman





Notice the lean in the Defensive lineman. He stands the Olineman straight up. OL/DL interactions are very good from what I've seen in madden 15. The thing thats missing in my opinion is that their torsos are too stiff. There has to be leaning, twisting, turning. The defensive lineman has great positioning with his upper body, now it's time for him to start driving his legs.




You see here, even though the defensive lineman is being blocked, he still makes the effort to swipe at the ball and manages to knock it free. Its effort thats missing. Sense of where they are in relation to the play. Just because they are being blocked doesn't mean they shouldn't know where they are on the field.

Offensive Lineman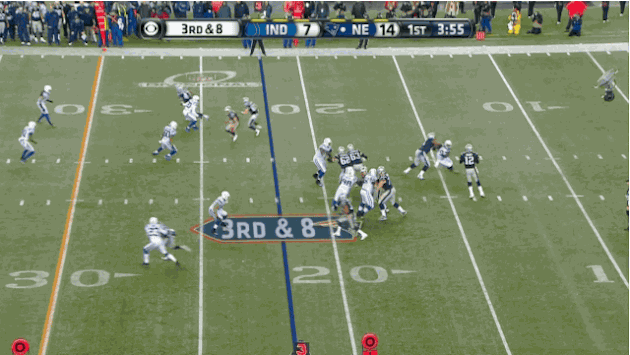 Look at 61 at the end of the play. Even though he is beat, he makes a last minute reach to try and get a hold of the DE going in for the sack. He doesn't just chase his guy and watch as he failed to do his job.

Also with all the new defensive line moves added to this years game. Give offensive lineman some abilities as well. Some sort of hold block option. If the offensive lineman uses it too much, there should be a holding penalty.

Wide Receiver/ DB




Honestly I don't need to say much about this. EA knows what they need to do in this department. I have faith that they will address this for next years game. My biggest piece of advice, again, there are 2 parts to the body. Upper and lower half. I want to see that sense of weight, lean, and swivel in the hips. No more stiff route running animations. WRs use a wide variety of tools to get open such as head fakes, stutter steps, and even push-offs to create separation.

The new pass rushing mechanics are an easy way to set up different mechanics for other positions on the field. Give CBs tools to cover their man and WRs tools to run effective routes like the tools given to pass rushers. The more user input the player has at a single position allows for more animations to play out. Jostle, grab, jam at the line, etc. Too much input with the holding, grabbing mechanic will result in defensive holding or PI. Which will make sense to the user if a flag is thrown.

Those were just a few examples of what I would like to see. When addressing animations I would like to see EA have these points in mind going forward.
- Player sense on the field, player personality and awareness.
- That sense of fight and second effort.
- Player models should have physics implemented in both upper and lower half of body.
This entry has not received any comments yet. You could be the first to leave one.


johnnyg713's Blog Categories
johnnyg713's Screenshots (0)
johnnyg713
does not have any albums to display.
The last 10 visitor(s) to this Arena were:
johnnyg713's Arena has had 27,551 visits